It was my birthday on Tuesday, and it was smashing (another shout-out to those who made it so). As a whole, #37 was pretty dang good. And the first week of my New Year that promises to be even better has been the best. week. ever. (Well, best ever so far in #38.)
What made last week so great? A few big things … like the incredibly thoughtful and touching way my colleagues helped me celebrate my birthday, the *awesome* presents from my family (exactly what I wanted), and making it to the final phase of an intense strategic planning process at work.
But it wasn't just the big things. It was the small things, too. An unexpected brown paper package not tied up with string, but definitely full of love. A play date this morning, and the cup of coffee Corrie brought me, because I asked if she would. A sunny day and the start of this year's Teva tan.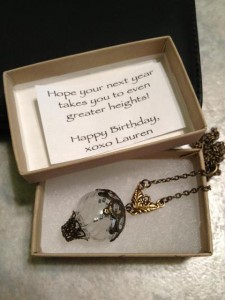 I especially love the sentiment in Lauren's totally perfect gift … "to even greater heights!" I'm *so* looking forward to this next year of my life. Bring it, #38!